Home

Members

Dan Fassett
Lyssa Fassett
Ross Lama
Bev Rodrigues
Andy Sadler
Ray Strouble

Gigs

Photos

Music

Links

Contact
<![if !vml]>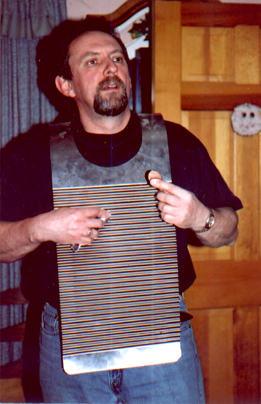 <![endif]>Andy Sadler

Drums, Percussion & Vocals

Andy was born at an early age in Cardiff, Wales(1). During his misspent youth in Penarth (a.k.a "The Last Resort") he played drums for a number of garage-bands (Garage???!!!! Bloody luxury!!!! When I were a lad we 'ad to play hanging upside down from the rafters in cowshed). Actually it was one garage band that kept changing its name in the vain hope of fooling promoters into hiring them (Psychic Attack/Sudan/Robby and the 'Roids/etc etc.) for a second gig.

In 1976, the combination of poverty and need for transportation sent the beloved Premier kit to the pawn-broker and began a long-term 'resting period' which lasted till 1997.

At that point, Andy was recruited to play in a band in Stow, MA that never saw the light of day (other than through the basement window). Luckily, shortly thereafter he met Dan and Ross at the Stow FPC Blues Jam and Deja Blue was formed. A few weeks later,Andy joined Snow Crow and the rest is history.

Andy sings, plays drums, percussion. frottoir, Zendrum, and the fool, not necessarily in that order.

(1) Note that while Wales IS part of Great Britain and of the United Kingdom, it is NOT part of England. This means that Andy is not English. It's important to remember this in conversation unless you're skilled at removing pointy sticks from your person.